Fluoride Therapy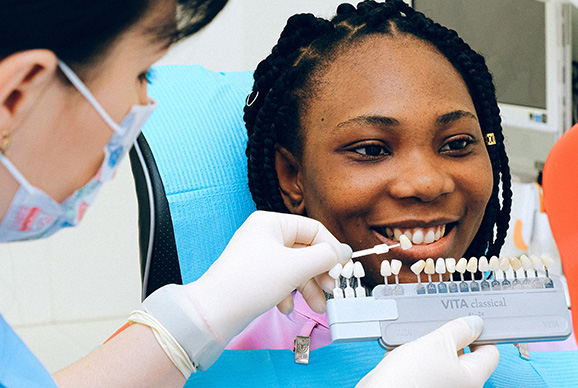 Fluoride Therapy In Knox
Tooth decay, if taken lightly, can lead to infection, pain, and even tooth loss. Before you suffer from tooth decay and its consequences, it is wise to protect your teeth. Proper oral hygiene and regular visits to the dental clinic can help protect your teeth. In addition, another effective preventative measure against tooth decay is Fluoride Treatment.
What Is Fluoride Treatment?
Fluoride, together with calcium and phosphorous, is important in keeping your mouth protected against tooth decay. Although it can be found in everyday food items as well as drinking water, dental care experts suggest that it is beneficial to have a better source of fluoride. This is where Fluoride Treatment comes into the picture.
The dental treatment involves the application of a strong fluoride-containing substance on your teeth. The fluoride is allowed to seep into the tiny pores of your teeth. Then, the fluoride molecules combine with the enamel structure of your teeth and boost their strength as well as durability. Furthermore, it also helps your teeth cope with the damage caused by bacteria in your mouth.
The Benefits Of Fluoride Treatment
Initiates remineralisation – With the application of a controlled concentration of fluoride, your teeth are given a chance to remineralise. They are now provided with the necessary materials to restore and renew the structures which have been damaged over time.
Improved resistance to acids – Also, by undergoing the process of remineralisation, your teeth become more resistant to acid attacks. Therefore, the possibility of developing tooth decay gets significantly reduced.
Neutralise acidity in the oral cavity – After the treatment, fluoride ions stay with the saliva in your mouth. Their presence neutralises the acidity in your mouth and brings it down to a level that does not harm the enamel.
Top-Notch Fluoride Treatment In Melbourne
For a safe and effective way of preventing tooth decay, try having Fluoride Treatment in Knox at Dainty Dental Care. This dental treatment is an important part of our comprehensive Preventative Dentistry program. Call us today on (03) 9720 7652 or simply book your appointment with your reliable Bayswater dentist online. Here at Dainty Dental Care, your dental and oral health is our main priority.