Porcelain Veneers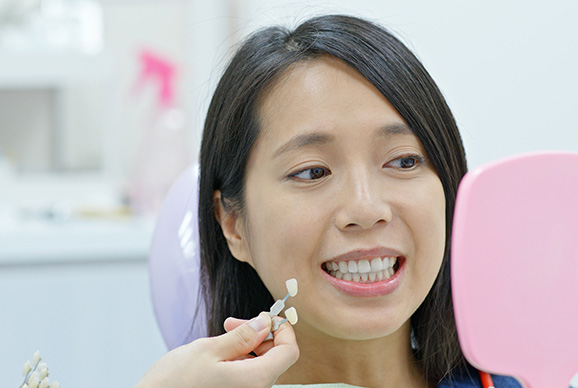 Smile Like You Mean It!
Your teeth are susceptible to wear and tear as well as damage from cavities. As a result, the way they look changes over time which diminishes the beauty of your smile.
Cosmetic dental problems like teeth staining, irregular spaces and shapes, or improperly aligned bites are quite common. Damaged, decayed or crooked teeth reduce your self-confidence eventually, and before you know it, the imperfections in your smile will cause more disruption to other aspects of your life. But, some beautifully crafted porcelain veneers can fix this.
While all these cosmetic dental concerns can be addressed one by one, it can prove to be time-consuming as well as expensive. But, you don't need to worry, as we can address your numerous dental concerns in one go and give your precious smile a much-needed makeover by using the porcelain veneers.
What Are Porcelain Veneers?
Porcelain Veneers can be considered as an all-in-one solution for cosmetic dental issues. These are thin sheets of dental ceramics which are bonded to the front surface of your teeth. Porcelain Veneers are specially designed to correspond to the colour and contour of your natural teeth.
They improve the appearance of your teeth and your smile. Today, Porcelain Veneers has become a popular dental treatment for people who want smile makeovers but have a number of issues that must be addressed.
The Advantages Of Porcelain Veneers
Efficiency – They deal with several problems in just two visits
Aesthetics – They give you a natural look and feel, just like your own teeth
Resistance to Staining – These ceramic sheets make your teeth smooth and stain-free.
Longevity of Treatment – With regular dental checkups and proper care, they last for a long time.
Top-Quality Porcelain Veneers In Bayswater
Get a quick yet effective smile makeover that also restores the functions and improves the look of your teeth. Experience one of the most modern solutions for the cosmetic dental concerns by getting Porcelain Veneers fitted to your teeth by your trusted dental team at Dainty Dental Care in Bayswater.
Call us today on (03) 9720 7652 or simply book your appointment online. Here at Dainty Dental Care, your dental and oral health is our main priority.