Dental Crowns & Bridges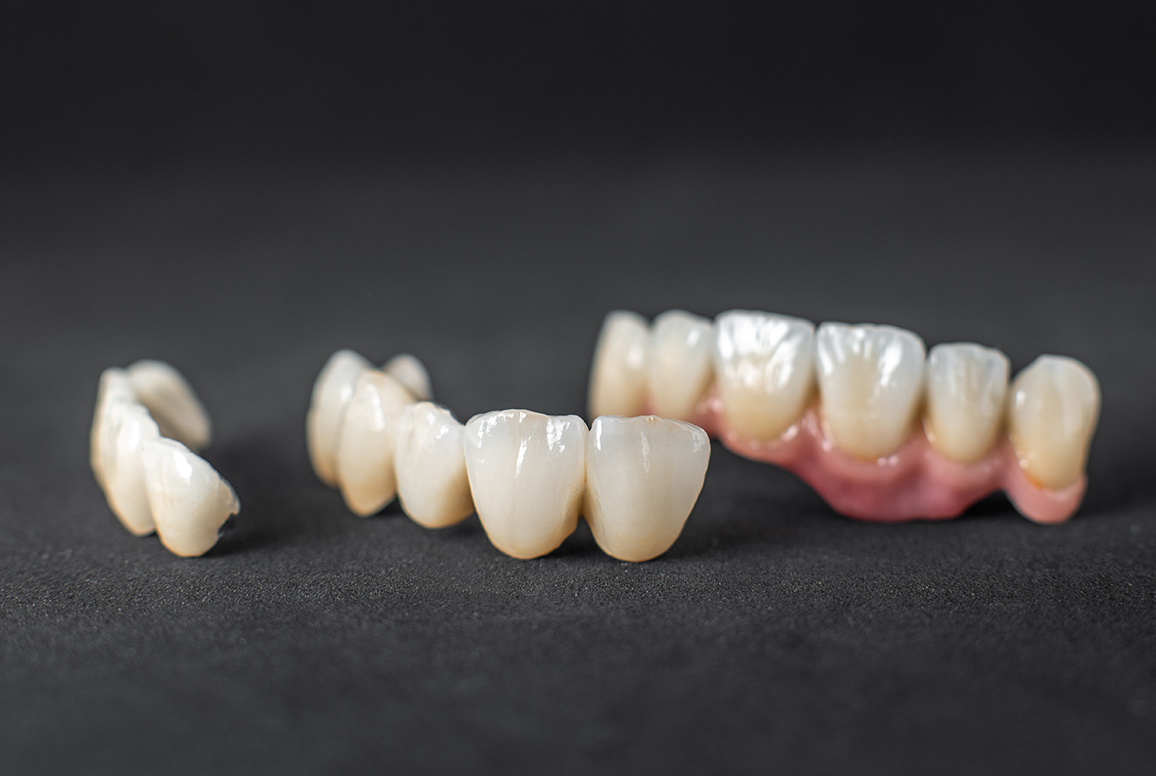 Tooth damage and tooth loss are common dental health issues.
Fortunately, they can be easily treated with the help of quality Dental Crowns & Bridges.
If you're looking for reliable dentistry services in the Knox City area, including Boronia, Bayswater, Ferntree Gully and Croydon, contact Dainty Dental today.
Dental Crowns
A dental crown works like a cap to cover the whole surface of the tooth. Dental crowns, which are made of porcelain, can bring back the function and appearance of chipped, broken, decayed, and weakened teeth. Porcelain veneers are specially manufactured to look and feel just like your own natural teeth.
Dental Bridges
A dental bridge is an ideal solution for dealing with multiple missing teeth. A dental bridge is composed of a number of tooth restorations that can replace up to four missing teeth. Dental Bridges are actually held by the Dental Crowns which are placed on two healthy teeth adjacent to the gap. These tooth replacement options are extremely stable, and thus, they can give you the best comfort and fit possible.
Getting Dental Crowns & Bridges In Bayswater
At our dental practice in Bayswater, the dental crown procedure usually takes 2 dental visits. The first visit involves evaluating your current condition. It helps us ensure that the dental treatment will be successful. Your teeth will be prepared and an accurate impression of your teeth will be taken. Next, a temporary tooth replacement will be manufactured and immediately installed into your teeth.
On your second visit, the temporary tooth restorations will be replaced by the permanent ones. In addition, your trusted dentist in Melbourne will also provide you with tips and reminders about how you can take good care of your teeth. With proper oral hygiene and regular dental check-ups, your newly installed Dental Crowns & Bridges can last for a long time.
First-Rate Dental Crowns & Bridges
Damaged and missing teeth can lead to more serious health risks. These concerns must be addressed immediately using exceptional Restorative Dentistry in Knox, which includes Dental Crowns, Dental Bridges, and other dental treatments that can restore the original condition of your teeth and make them perfect.
Other Dainty Dental Services
If you're looking for a dentist that you can visit on the weekends, Dainty Dental is your friend. Besides dental crowns and bridges we also offer a variety of other general dentistry services:
Sleep Dentistry
Wisdom Tooth Removal
Dental Implants
Dentures Repair
Your trusted dental care partners at Dainty Dental Care are dedicated to guiding you towards having a lifetime of healthy and beautiful smiles. Call us today on (03) 9720 7652 or simply book your appointment online. Here at Dainty Dental Care, your dental and oral health is our main priority.